Cobot Story: The Walt Machine Inc. Integration Challenges
Walt Machine Inc. specializes in precision aluminum parts for optical assemblies—their specialty—and offers several other manufacturing services. They initially installed a Robotiq Wrist Camera and 2F-140 Gripper on a UR10 cobot to tend CNC machines around the clock, which doubled daily production. Since then, they've added two more robots and scaled up from making 2,000 parts to 50,000 parts a day. You may have heard how Walt Machine doubled daily production with the Robotiq Wrist Camera. We are picking up where we left in the first case study, and we'll see how the company has grown beyond that first robot.
A Cobot Story at Walt Machine, Inc.
Watch the first video, which presents the history of Walt Machine, their challenges, and how they solved them. 
The Machine Tending Layout
One way to maximize cobot usage is to move the robot around so that it operates at different workstations. Widely used in the automotive industry, the gantry—or 7th axis—facilitates the movement of the robot from one station to the other without using any floor space. The final Walt Machine layout is presented here: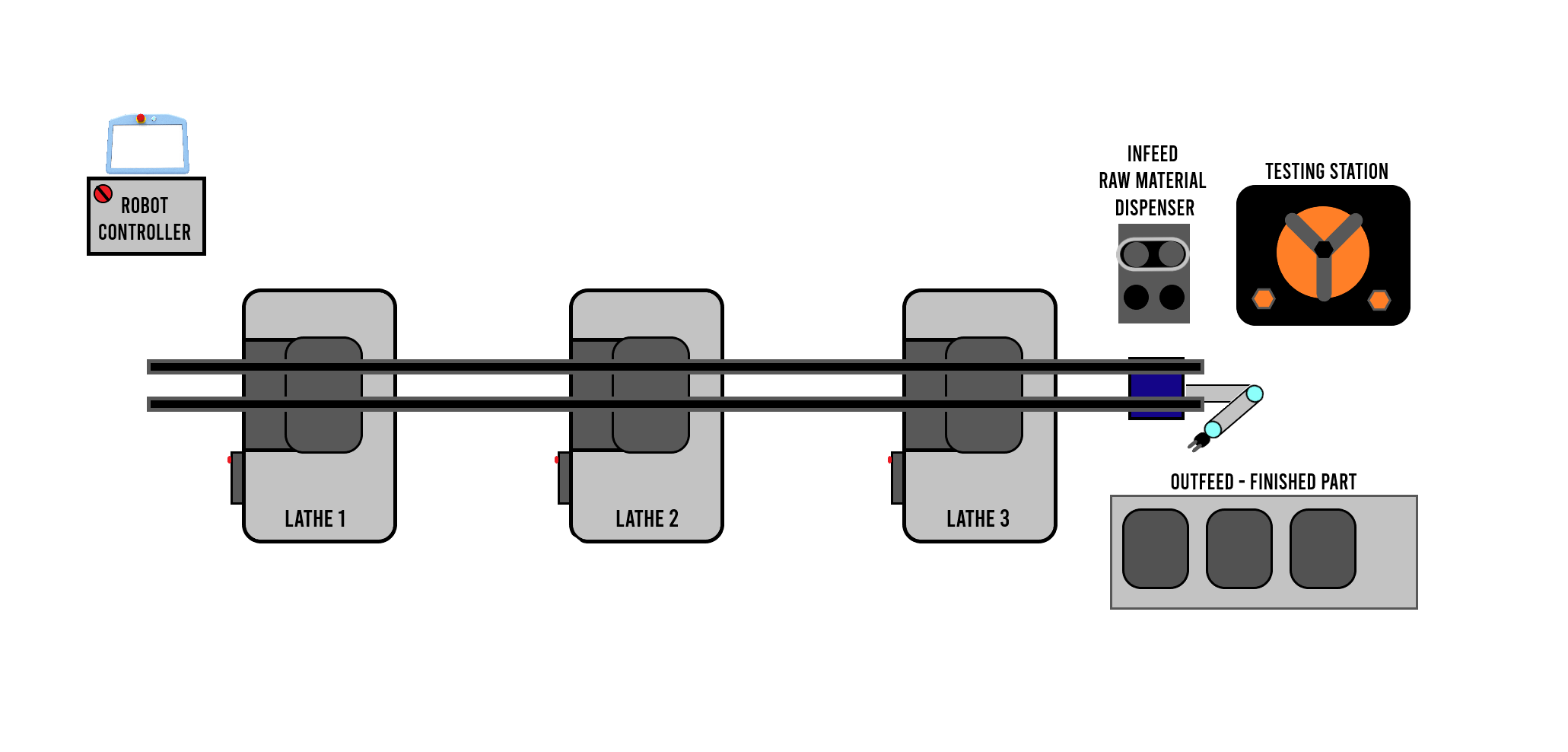 A cobot attached to a custom rail on the ceiling is feeding three lathes. The infeed, outfeed, and testing station are at a fixed position on the 7th axis. This greatly simplifies the programming and reduces the cycle time.
Disclaimer:
Be careful when designing your own layout. Please perform a risk analysis to ensure a safe environment for operators. Not sure where to start? Look at the Safety Lessons of the Palletizing Solution. The concepts exposed in that lesson apply to any type of cobot integration.
The Integration Challenge at Walt Machine, Inc. - Part 1
In this video, Tommy Caughey, President of Walt Machine Inc., presents the challenges related to the infeed and outfeed sections of the layout.
Infeed and outfeed strategies and challenges

Creation of a custom parts feeder

Use of an inspection station for quality assurance
The Integration Challenge at Walt Machine, Inc. - Part 2
In this last part, Tommy Caughey presents the challenges related to feeding parts to the lathe and gives us some programming tips and tricks based on the lessons he learned.
Programming tips and best practices

Five tips for a successful machine tending application 

CNC machine tending handshake
Last modified: Tuesday, 16 February 2021, 2:22 PM